Learn Everything About MH370 Here – Comprehensive List
LIKE?SHARE
Added by Aiden on March 18, 2014

3:13 AM MYT
In a statement, passengers' families said that the airline, Malaysian government and its military had "continually and extremely delayed, hidden and covered the facts, and attempted to deceive the passengers' relatives, and people all over the world". Full statement available here, via The Guardian
2:48 AM MYT
China will send more vessels to the waters of the southern Indian Ocean to search and salvage wreckage of Malaysia Airline MH370, Chinese maritime authorities said late Monday night. Xinhua
1:47 AM MYT
"In Beijing, relatives shrieked and sobbed uncontrollably and men and women held up their loved ones when they heard the news. Their grief came pouring out after days of waiting for definitive word on the fate of their relatives aboard the missing plane." AP
A profound statement from Malcolm Moore: "Most of the relatives are still inside the conference room in Beijing. Where else do they have to go?"
1:08 AM MYT
Boeing has release a statement
Boeing is saddened by today's announcement by the prime minister of Malaysia regarding Malaysia Airlines Flight 370. Our thoughts and deepest sympathies continue to be with the families and loved ones of those aboard. Boeing continues to serve as a technical advisor to the U.S. National Transportation Board.
12:30 AM MYT – 24th MAS PRESS STATEMENT
It is with deep sadness that Malaysia Airlines earlier this evening had to confirm to the families of those on board Flight MH370 that it must now be assumed the flight had been lost. As the Prime Minister said, respect for the families is essential at this difficult time. And it is in that spirit that we informed the majority of the families in advance of the Prime Minister's statement in person and by telephone. SMSs were used only as an additional means of communicating with the families. Those families have been at the heart of every action the company has taken since the flight disappeared on 8th March and they will continue to be so. When Malaysia Airlines receives approval from the investigating authorities, arrangements will be made to bring the families to the recovery area and until that time, we will continue to support the ongoing investigation.
12:19 AM MYT
France's air investigation authority, the Bureau d'Enquêtes et d'Analyses (BEA), released a statement about the investigation.
Adviced the means to be put in place if undersea searches need to be launched.
Information available today has led to surface sea searches being carried out in order to identify debris observed
An undersea phase to localise the aeroplane from flight MH 370 could only be launched if the operations under way today enable a more limited search area to be defined.
via The Guardian
11:55 PM MYT
According to Inmarsat, determination of plane's flight path involved a totally new way of modelling, which was why it took time. The company told the BBC the new calculation involved crunching far more data, which included what other aircraft were doing at the time.
Inmarsat gave the AAIB the new data on Sunday, it said, which had to be checked before it could be made public.BBC
11:47 PM MYT
Sky News Asia correspondent Mark Stone posted a response from Malaysia Airlines about its decision to text message relatives that the plane is assumed to have disappeared. The airline clarified that is also contacted families face to face about the news. The Guardian
10:15 PM MYT – 23rd MAS PRESS STATEMENT
Note: The communication below was shared with the family members of passengers and crew of MH370

Malaysia Airlines deeply regrets that we have to assume that MH370 ended in the southern Indian Ocean. As you will hear in the next hour from Malaysia's Prime Minister, new analysis of satellite data suggests the plane went down in the Southern Indian Ocean.

On behalf of all of us at Malaysia Airlines and all Malaysians, our prayers go out to all the loved ones of the 226 passengers and of our 13 friends and colleagues at this enormously painful time.

We know there are no words that we or anyone else can say which can ease your pain. We will continue to provide assistance and support to you, as we have done since MH370 first disappeared in the early hours of 8 March, while flying from Kuala Lumpur to Beijing.

The ongoing multinational search operation will continue, as we seek answers to the questions which remain. Alongside the search for MH370, there is an intensive investigation, which we hope will also provide answers.

We would like to assure you that Malaysia Airlines will continue to give you our full support throughout the difficult weeks and months ahead.

Once again, we humbly offer our sincere thoughts, prayers and condolences to everyone affected by this tragedy.
10:00 PM MYT – PRESS CONFERENCE BY PRIME MINISTER – NAJIB RAZAK OF MALAYSIA
Inmarsat, the satellite data provider has been performing further calculations on the data
The analysis concluded MH370 flew along the southern corridor, and that its last position was in the middle of the Indian Ocean, west of Perth.
A remote location, far from any possible landing sites
Flight MH370 ended in the southern Indian Ocean.
Relatives of passenger & crew have been notified of the new development.
Press conference will be held tomorrow with further details.
Full text of the statement can be read here
Overview of this press conference can be read at this article from 3 News

9:56 PM MYT
From BBC live coverage
The following SMS message has been sent to relatives: "Malaysia Airlines deeply regrets that we have to assume beyond any reasonable doubt that MH370 has been lost and that none of those on board survived. As you will hear in the next hour from Malaysia's Prime Minister, we must now accept all evidence suggests the plane went down in the Southern Indian Ocean."
9:46 PM MYT
Paramedics have been sent to the Beijing hotel where relatives are due to be briefed. SKY news Australia via The Guardian
9:27 PM MYT
The families of the missing passengers have been offered flights to Australia, according to Sky News. The Guardian
9:16 PM MYT
Relatives of the 239 people missing on the plane have been called to an emergency briefing. The Guardian
6:59 PM MYT
The Guardian reports in their live coverage blog:
It is unclear how close HMAS Success is to recovering the mystery objects picked by an Australian search plane.

Hishammuddin said the objects could "received" by the ship "within the next few hours." Australian's prime minister Tony Abbott said: "We are hopeful that we can recover these objects soon."

But in its last Twitter update the Australian Maritime Safety Authority suggested the crew was still searching for the objects.
5:45 PM MYT
AMSA on the latest sighting of potential debris by an Australian plane (PDF)
HMAS Success is on scene and is attempting to locate the objects
The objects were spotted in the search area about 2500 kilometres south-west of Perth by the RAAF Orion about 2.45pm (AEDT).
The two objects – the first a grey or green circular object and the second an orange rectangular object.
The objects identified by the RAAF Orion are separate to the objects reported by the Chinese Ilyushin IL- 76 to AMSA earlier today.
5:30 PM MYT – PRESS CONFERENCE
This space will be update soon
Full text of opening statement can be read here
Video of the PC can be viewed here
5:15 PM MYT
China has redirected a commercial icebreaker the Xuelong, or Snow Dragon, to change its course to the area where one of its planes spotted those suspicious objects. China Xinhua News
4:16 PM MYT
A US P8 Poseidon search plane has failed to locate the potential debris spotted by the Chinese. AMSA
3:52 PM MYT
The location of the "suspicious" objects spotted by a Chinese plane fall within an area currently being searched by Australian aircraft. The Australian Maritime Safety Authority said its teams were trying to relocate the objects spotted by the Chinese. Source
12:13 PM MYT
Chinese planes involved in search for missing Malaysia Airlines flight MH370 find "suspicious objects": XinhuaSource
8:21 AM MYT
US Pacific Command orders Navy black box locator into Indian Ocean search area in case debris from missing MH 370 is located.
7:21 AM MYT
2 Chinese aircraft en route to search area for MH 370 near Australia. Source
5.55 PM MYT
Datuk Seri Hishammuddin Hussein said at the press conference that Chinese satellites have received an image of an object of 22.5m long and 13m wide in the southern corridor and the Chinese government will announce more details in a couple of hours from now.
Read the rest of the PRESS STATEMENT
MH370 PRESS STATEMENT BY MINISTRY OF TRANSPORT, MALAYSIA

SUNDAY, 23 MARCH 2014, 5:30PM

1. Search and rescue operational update

a. The search and rescue operation remains an international effort, co-ordinated by Malaysia. A number of countries are leading in their respective search areas and all countries involved are displaying unprecedented levels of co-operation.

b. This morning, Malaysia received new satellite images from the French authorities showing potential objects in the vicinity of the southern corridor. Malaysia immediately relayed these images to the Australian rescue co-ordination centre.

c. Two Chinese Ilyushin IL-76s have arrived in Perth, and will depart for the search and rescue operation tomorrow at 05:00 and 06:00.

d. Two Japanese P3 Orions today left Subang airport for Perth.

e. The Australian rescue co-ordination centre will deploy eight aircraft (four military and four civilian) to the southern corridor today, to conduct visual searching.

f. The Australian Defence Vessel 'Ocean Shield', which has a sub-sea remotely operated vehicle, is currently en route to the southern corridor.

g. As of 2:30pm Malaysia time, Australian officials have informed us that they have not made any new sightings regarding MH370.

h. One Indian Navy P8 Poseidon and one Indian Air Force C130 left Subang airport today to join the search and rescue operation in the northern part of the southern corridor, which is being led by Indonesia.

i. A number of other sorties from Subang airport to the southern corridor were cancelled today due to bad weather caused by tropical cyclone Gillian.

j. Australia, China and France have now released satellite images that show potential objects, which may be related to MH370, in the vicinity of the southern corridor. All this information has been forwarded to Australia, as the lead country in the area of concern.

2. Family briefing

a. The Malaysian high level team started a briefing in Beijing this morning for relatives of those on board MH370. The meeting lasted more than 6 hours. This is the third such meeting that has been held. The team presented information to the relatives and answered questions. The Government wishes to reiterate its commitment and continued engagement with the relatives of those on board MH370.

3. Update on ACARS transmission

a. The last ACARS transmission, sent at 1.07am, showed nothing unusual. The 1.07am transmission showed a normal routing all the way to Beijing.
Source: Ministry of Transport Malaysia's Facebook page
5.45 PM MYT
Cargo manifest is with the investigations team and will be released in due time, according to Defence Minister Datuk Seri Hishammuddin Hussein at the daily press conference in Sama-Sama Hotel, Sepang.
He confirmed that the investigation team has followed every lead in looking for the missing aircraft which has now entered its fifteenth day.
On the briefing in Beijing Hishammuddin said it was less productive than the ones here.
Meanwhile the Department of Civil Aviation (DCA) director-general Datuk Azharuddin Abdul Rahman called the transcript between the cockpit and air-traffic controller published by The Telegraph as not accurate.
Hishammuddin, in commenting on the transcript said it cannot be released to the public and the matter is still being investigated, adding that so far there has been nothing abnormal in the record.
2.45 AM MYT
The Pentagon is mulling Malaysia's request for sonar equipment to aid in the search for MH370.
Pentagon spokesman Rear Admiral John Kirby told Reuters that Defence Minister Datuk Seri Hishammuddin Hussein had spoken to the US' Secretary of Defence Chuck Hagel asking for undersea surveillance equipment.
This came as the Pentagon tallied the costs for the two-week search to have reached USD2.5 million (RM8.2 million), as reported by Reuters.
"No specific request was made for any particular type. It was just a general request for us to help them locate the wreckage and/or the black box," Kirby was quoted as saying, adding that the secretary would consider the request and would get back to Hishammuddin in the "very near future."
11.00 AM MYT
Australia has tasked a female captain to search for MH370.
Bernama reports Captain Allison Norris, the commanding officer of Australia's second largest ship, HMAS Success, which is expected to arrive in the search area this morning told News Corp via satellite phone that her ship and its 220-strong crew were ready for any challenge.
Norris, who has been in the navy since 1987 as a seaman officer and warfare specialist, said if the ship found any debris from the missing aircraft, her crew would attempt to retrieve it using the ship's inflatable boats and possibly its crane.
10.30 AM MYT
The Australian AP reports fine weather should aid the search for the missing plane off the West Australian coast today.
The Australian Maritime Safety Authority (AMSA) has deployed six aircraft to be involved in today's search, AMSA said in a media release today.
It said a Royal Australian Air Force (RAAF) P3 Orion departed for the search area at 9am while two ultra long range commercial jets departed for the search area at 9.15am.
"A second RAAF P3 Orion is scheduled to depart for the search area at 11am. A New Zealand P3 Orion is due to depart for the search area at approximately 1pm. A third RAAF P3 Orion aircraft is due to depart for the search area at about 3pm," the release said.
The bad weather that hampered search operations on Thursday has cleared.
"We're not expecting any significant weather. Visibility should greatly improve," Bureau of Meteorology forecaster Luke Huntington told ABC radio.
Two merchant ships are assisting in the search and the Royal Australian Navy's HMAS Success is due to arrive at the area in the afternoon.
9:30 AM MYT
It was reported that Norwegian car carrier Hoegh St Petersburg stopped searching the area where debris was spotted via Australian satellite, about 10pm last night and that the search will continue early this morning.
8.4 AM MYT
The Japanese Embassy issued a statement last night stating it will continue to support efforts by the Malaysian government in search and rescue operation for missing Malaysian Airlines Flight MH370.
It said Japanese Prime Minister Shinzo Abe had conveyed this to Malaysian Prime Minister Datuk Seri Najib Razak in a 10-minute telephone call at 5.30pm yesterday.
According to Bernama, Abe expressed deep concern about the missing aircraft that has not been found so far despite intense searching efforts. Abe said he appreciated that Najib had been assuming strong leadership in a difficult situation and expressed his willingness that his country would further continue to support the search efforts.
Abe said Japan was conducting search operations using five aircraft and had decided to move two aircraft to Australia in response to a request by Malaysia.
Najib expressed his gratitude to Abe for his warm words and the country's assistance in the search efforts.
Abe also stated that he was willing to help as a friend of Prime Minister Najib and asked to be informed if any assistance was needed.
5:30 PM MYT – PRESS CONFERENCE
Still awaiting information for Australian authorities regarding the suspected debris.
HMAS Success is due to reach the search area tomorrow.
Ukraine has finished background checks on Ukraine passengers, and found no issue.
Russia remained the only country not to report back on passenger background check.
Will establish a new SAR centre for northern corridor if new information comes to light.
Rumours of India do not allow Chinese warships to enter it's waters is not true.
Authorities had not found anything unusual in the list of individuals in the passenger manifest.
Reiterate Malaysians have received good support from the Chinese authorities
The aircraft did carry some lithium ion batteries in the cargo, but they are treated as dangerous goods. It was check rigorously to ensure they are packed properly. Many airlines across the world transport these, not just MAS.
Kazakhstan has no confirmation that the plane was in their airspace.
The Guardian
4:45 PM MYT
The first RAAF P3 Orion has returned to Perth, with its flight commander saying conditions are "great" at the search site but no items of interest have been spotted. 3 News
2:32 PM MYT
AMSA update on the search operation.
The aircraft did a radar search yesterday and made no sightings.
All aircraft are currently airborne, the first aircraft is currently on the way back.
Last aircraft will leave the search area by about 10pm AEDST.
The search area is much smaller than we started with it nonetheless is a broad area.
Search area will be move according to where the water has moved overnight
Will be looking to see if more satellite imagery could be acquired that would provide new or refined information.
Latest search map by AMSA (via The Guardian)
Full statement can be read here. Video (mp4)
12:05 PM MYT
Australian PM stands by decision to release satellite images when asked whether he had been too quick to make the announcement to parliament. The Guardian
11:43 AM MYT
China has announced that it is sending three warships to join the search for possible debris from the missing Malaysia Airlines plane in the southern Indian Ocean. AP via The Guardian
11:00 AM MYT
Australian Prime Minister Abbott speaks with Chinese President Jinping about MH 370. Says Jinping is 'devastated' about missing jet and that Australia will follow all possible leads. ABCNews
7:36 AM MYT
A satellite image company said on Thursday that the sheer number of images covering a large swath of ocean contributed to a delay in revealing what could be debris from the Malaysia Airlines jetliner that has been missing for nearly two weeks. Reuters
4:51 AM MYT
First ship reaches area of possible MH 370 debris in Indian Ocean. Source
9:35 PM MYT
A statement from the Australian Maritime Safety Authority confirmed that the search operation has finished for today and will resume again on Friday. No sightings were reported. AMSA (PDF)
7:08 PM MYT
The Norwegian ship, Hoegh St. Petersburg reaches area where Malaysia plane debris may have been spotted.Reuters
6:42 PM MYT
The UK Ministry of Defence has confirmed that the UK is sending HMS Echo – a coastal survey ship – to the southern search corridor. BBC
5:58 PM MYT – PRESS CONFERENCE
Attended by minister of transport, minister of foreign affair, DCA chief, MAS CEO
Opening Statement
At 10 AM MYT, two possible object potentially related to MH370 were spotted by satellite image in Southern Indian Ocean, southwest of Perth, Australia.
AMSA is coordinating the search, assisted by other countries' authorities.
HMAS Success is heading to the area, but remained days away the site.
Chinese ambassador, together with Malaysian authorities will brief the passenger families in Kuala Lumpur.
Search and rescue will continue overnight.
Full text of opening statement can be read here (via The Guardian)
Q&A
Not de-intensified SAR operation in northern corridor.
Duty roster is typically released few weeks before the flight, according to MAS CEO.
Could not confirmed when the image is taken, but the news is received this morning in Malaysia.
Reiterate on the 4 passengers who did not turn up, were replaced by standby-passenger.
If debris is confirmed, next step would be to recover the black-box.
Passenger families are given 2-3 updates on the situation every day.
Passenger families will be arranged to fly to Australia if the debris is confirmed.
Regretful of how authorities handled the confrontation on the press conference yesterday.
French authorities are guiding Malaysian authorities on how to handle/comfort passenger's families.
5:45 PM MYT
'Extremely poor' visibility hampers Australian debris search. RAAF P3 crew unable to locate debris.Further aircraft to continue search for MH370. 3 News, AMSA
3:24 PM MYT
It is important to point out that the satellite imagery of the objects released by Australia are four days old. They are dated Sunday 16 March.
In ASMA GM's media statement, suggested the authorities have taken their time to analyse the images before stating that they could have been debris from MH370.
To repeat he said: "RCC Australia received an expert assessment of commercial satellite imagery on Thursday."
"The images were captured by satellite. They may not be related to the aircraft. The Guardian
3:04 PM MYT
Two satellite images(Image1, Image2) have now been released by Australia's maritime Safety Agency that show the objects they believe to be "credible" findings. The Guardian, 3News
Object location on google map by The Guardian
1:41 PM MYT
Press statement from Malaysian Defence Minister.
At 10:00 this morning, Prime Minister Dato' Seri Najib Razak received a call from Prime Minister Tony Abbott of Australia, informing him that 'two possible objects related to the search' for MH370 had been identified in the Southern Indian Ocean. The Australian High Commissioner has also briefed me on the situation.

At this stage, Australian officials have yet to establish whether these objects are indeed related to the search for MH370.
Source
1:01 PM MYT
To see how the search has now been narrowed this is the revised search zone that was being examined on Wednesday:
Search zone off Australian coast on Wednesday. Photograph: AMSA
Revised search area following possible object sightings on Thursday. Photograph: AMSA
via The Guardian
AMSA PRESS CONFERENCE – 12:30 PM MYT – Image of statement
John Young – Australian Maritime Safety Authority
All times are in Canberra Time
Coordinating Southern Corridor search with assistance from RNZAF, US Navy
Satellite imagery has been received. RCC Australia conducted an assessment.
Image is in vicinity of search area. Further images are expected after commercial satellites were redirected to take high quality images. Will be provided in due course.
Images taken 2500 km SW of Perth – 4 aircraft repositioned.
Orion arrived at 1:50 pm. 3 more aircraft are tasked to arrive. US P-8, another Orion. P-8 is on scene now. Second Orion will arrive on scene at 6 pm. New Zealand Orion will depart at 4 pm and will be on scene 8 pm. RAAF C-130 has been tasked to drop data marker buoys.
HMS Success merchant ship en route to area – will take some days to reach.
Focus of AMSA – continue search with all available ships and aircraft. Grave concern for passengers and crew onboard.
Weather: moderate in the Southern Indian Ocean. But poor visibility has been reported. Weather "not playing."
Objects may be not from MH 370 and may be difficult to find.
Q&A
Objects are indistinct on imagery. They are 'credible sightings.' Objects that are of reasonable size and are awash with water.
Size of the objects: largest object is assessed as being 24 meters (78.74 feet) long "blob".
1:50 pm: Orion reported the weather on scene. No debris sightings.
Merchant ship: most likely scenario is if an aircraft finds an object, it will mark the area with GPS and the ship will be sent to investigate the area
Satellite imagery is progressively provided to AMSA. Discovered to reveal a possible object part of a possible debris field.
This is credible enough to divert research to this area on the basis that it provides a promising lead that this may be a debris field. May not be related to the search even if debris looks "good."
Water may be several thousand meters deep.
The area is 4 hours flying time for the P3. Aircraft can search for about 2 hours due to fuel load.
Advice for families: AMSA is doing its very best to find any possible survivors IF the aircraft came into the southern corridor and IF the objects are indeed the aircraft
12:20 PM MYT
ABC News correspondent David Wright reports that a U.S. Navy P-8 crew says there is intel of some sort of unidentified debris in the Indian Ocean.
12:12 PM MYT
Malaysian minister confirms there is a new lead in investigation of missing plane. Reported by Reuters
12:02 PM MYT
US Navy commander tells @ABC a US P-8 is nearing search area where Australian PM says satellite has noted 2 objects of interest.
11:30 AM MYT
Australian Prime Minister Tony Abbott says objects have been found possibly related to search for missing Malaysia Airlines jet. He stresses it is not yet clear whether objects are parts of the plane; P-3 aircraft has been diverted to investigate. Australian Maritime Safety Authority is to hold a briefing at 3:30pm AEDT. He says locating these objects will be extremely difficult; reiterates that 'it may turn out that they aren't related to the search for [Malaysia Airlines] flight.' Source 1, Source 2, Source 3, Video
10:05 AM MYT
President Obama says that United States has put "every resource we have available" to help find MH 370. Full video here
1:41 AM MYT
In an interview with a CNN correspondent, Malaysia opposition leader Anwar Ibrahim says that Capt Zaharie Ahmad Shah "was no extremist." Video
10:46 PM MYT
Copies of the hard drives from computers of pilot, co-pilot from From MH 370 have been given to the FBI for analysis. Source
10:02 PM MYT
"We don't have any theories," says US Attorney General Eric Holder.
8:00 PM MYT
Australian authorities said it halved the size of its designated search area to about 89,000 square nautical miles, based on an analysis by the U.S. NTSB that factored in the aircraft's fuel reserves. Searches so far hadn't found anything of significance. WSJ
7:45 PM MYT
The Malaysian government has ordered an inquiry into the scuffles between and police officers and relatives of the missing passengers that overshadowed today's press conference. The Guardian
7:00 PM MYT
Indonesian authorities has cleared all seven Indonesian passengers aboard missing Malaysian Airlines Flight 370 of any terrorist links. WSJ
5:30 PM GMT – PRESS CONFERENCE
Opening statement
Maldives authorities confirm report of the aircraft sighted is not true.
Appealed to other countries to volunteer more satellite and radar data about the flight.
Aircraft flew on normal routing until IGARI way point.
All passengers, crew and ground staff handling the aircraft are being investigated.
All passenger's background checks have been recieved from all countries apart from Ukraine and Russia.
Some data had been deleted from the pilot's flight simulator and forensic work to retrieve this data is on-going.
Passengers, the pilots and the crew remain innocent until proven otherwise.
A high-level team fom Malaysia will immediately travel to Beijing to give briefings & updates to the next of kin on the latest situation, and on search and rescue plans.
The full statement can be read here . Video link,

Q&A
DCA Chief dismissed a report that the plane was programmed to change course before the co-pilot issued the "all right, goodnight" sign off.
One of the main priorities is how to manage emotions and how to appease the families
Hisshammudin played down a report by Reuters which claimed investigators had a "working assumption" that the plane is likely to be lost far into the southern flight corridor in the southern Indian ocean.
Both corridors are both equally important. But the southern corridor is much more challenging.
Pilot's flight simulator data was cleared on the 3 February,
Today PC is compiled from The Guardian & BBC

5:03 PM MYT
Maldives authorities have stated that no indication of flight MH370 has been observed on any military radar's in the country. Source
4:57 PM MYT
Relatives of those missing on the plane have been thrown out of the daily press conference by the Malaysia authorities in Kuala Lumpur after seeking more information on the search.
Both Sky News and the New Straits Times report scuffles and chaotic scenes.
4:46 PM MYT
China hasn't found evidence that Malaysia Airlines Flight 370 ever entered its territory. WSJ
4:10 PM MYT – 21st MEDIA STATEMENT
The passengers and crew on-board flight MH370, their families and loved ones, have been at the centre of every action Malaysia Airlines has taken as a Company since we first learned the flight disappeared.
The Malaysian Government is coordinating an unprecedented international search effort covering 2.24 million square nautical miles. With this simply enormous area we cannot determine how long it will take to locate the aircraft.
Considering these challenges, our caregivers have informed the family members of the missing passengers and crew that we have taken the decision to continue to provide information and assistance through the further enhanced Family Support Centre (FSC) based in Kuala Lumpur which has been operational since 8 March 2014 rather than the various Family Assistance Centers (FACs).
The Family Support Centre will continue to proactively provide relatives waiting for news at home with daily updates. In addition to personal phone calls, Malaysia Airlines will now send out SMS blasts with brief updates to the families. We have also set up an email address for family members as a channel for them to communicate with us. Updates via the Malaysia Airlines website are also available.
This Family Support Centre will be open round-the-clock and will house family support representatives trained to assist those who are seeking answers and further information. The representatives will be divided into four shifts with ten staff handling each shift. This will ensure that someone is available to attend to the families at all times. The centre will also have Mandarin speaking personnel.
Below are the toll-free numbers that has been set-up for eight different countries. A back-up number is also given to the families in the event they are not able to reach the toll-free number. The number to call to get in touch with this centre is +603 8777 5770.
| Countries | Toll-free number |
| --- | --- |
| China | 10-800-130-1364 (South China) / 10-800-713-1404 (North China) |
| Malaysia | 1800-81-4819 |
| Indonesia | 001-803-015-203-7708 |
| Australia | 1800-198-163 |
| US/Canada | 877-504-4210 |
| New Zealand | 080-045-4029 |
| India | 000-800-100-3449 |
| France | 080-091-2622 |
All this while, the families have always been briefed first, followed by the media and then the public whenever new information surfaces. However, the often conflicting information and wild speculation have caused a major distress to the families.
The Airline continues to work closely with the authorities and we appreciate the help we are receiving from all local and international agencies during this critical and traumatic period.
Our top priority remains to provide any and all assistance to the families of the passengers and crew.
2:56 PM MYT
Source close to the investigation say, investigators probing the disappearance of the MH370 believe it most likely flew into the southern Indian Ocean. Reuters
4:34 AM MYT
CNN, citing unnamed US officials, claims that a search of the pilots computers and emails revealed NO indication that the course deviation was planned. The US officials were supposedly briefed by Malaysian authorities –however, the Malaysian authorities have not yet publicly confirmed this.
1:14 AM MYT
White House spokesman Jay Carney said at his daily briefing, calling the search "a difficult and unusual situation". When asked about the notion that the plane could have landed at Diego Garcia, the US military base in the central Indian Ocean, Carney was dismissive: "I'll rule that one out." The Guardian
12:24 AM MYT
The aerial search for missing Malaysia Airlines MH370 flight has been hampered by refusal from Indonesia to let planes overfly their territory. BBC
11:28 PM MYT
New profiles of Zaharie Ahmad Shah and Fariq Abdul Hamid, the pilot and co-pilot of MH370 have been published by Reuters & New York Times. The story is the same: nothing about these men or the lives they led seems to point to likely complicity in a plot to divert the plane. Reuters article , NYT article
11:13 PM MYT
Thailand's military announced Tuesday that it had radar data that seems to corroborate Malaysian military radar data tracking a plane likely to be MH370 flying west over the Malacca Strait.
Why didn't Thailand release the data before Tuesday? Because it wasn't specifically asked for it, military officials says. AP via AB
6:11 PM MYT – PRESS CONFERENCE
Attended by minister of transport, minister of foreign affairs, DCA chief & MAS CEO.
Opening Statement
Focus is on 4 tasks: gathering information from satellite surveillance, analysis of surveillance radar data, increasing air and surface assets, and increasing the number of technical and subject matter experts.
Every relevant country that has access to satellite data has been contacted
Australia & Indonesia lead SAR operation in southern corridor. China & Kazakhstan lead the northern corridor.
Each of both northern & southern corridor divided to 7 quadrants, spanning area of 160000 sq nautical miles.
Total search area of 2.24 million sq nautical miles.
ACARS was disabled just before reaching the East coast of peninsular Malaysia.
Transponder was switched off near the border between Malaysian and Vietnamese ATC.
Reiterate ACARS was disabled just before reaching east coast of Malaysia. No exact time on when ACARS is turn off is available.
Consistent with deliberate action of someone on the place.
Exact time ACARS was switched off have no bearing of SAR operation
Investigation on crew remained ongoing.
Full statement can be read here
Statement from Ministry of Foreign Affairs
25 counties involved in SAR operation.
Response has been excellence from the countries involved.
9 other countries, which are not covered in either corridor, have come forward to assist in the investigation.
Q&A
Deny Malaysia is a terrorist haven.
Not discounting any possibilities, including decompression theory.
Investigation is not influence by political issue.
Authorities have request Thai air force to restudy on the radar reading when being probe by journalist on reports that MH370 had straddled over into Thai airspace when flew across the peninsular.
Efforts are being done to reduce the area of concentration. Until then both corridor are equal in priority.
MAS reiterate that it have given sufficient and accurate information to passenger's families.
Insisted that Malaysia is the only country that has publicly released all the satellite and radar data about flight MH370.
Other countries had shared such data but declined to name which ones.
MAS have never flown route along northern corridor before.
Radar reading are only available to county's authorities, but not media due to it's sensitivity.
MAS iterate the aircraft is programmed to fly to Beijing as part of SOP. But anything is possible once the aircraft has took off.
4:44 PM MYT
Relatives & Loved ones of some of the missing Chinese passengers are threatening to go on hunger strike to attempt to get more information from the Malaysian authorities as they felt they are kept in the dark. AFP via The Guardian
4:30 PM MYT
China says it has started searching its territory and deployed 21 satellites to help with the search. BBC
3:15 PM MYT
China finds no terrorism link among its passengers on MaH370. CNN, The Guardian
2:30 PM MYT
Australian authority admits MH370 search in Indian Ocean may take weeks. Four Australian planes, with one each from the US and New Zealand, will search an area of 600,000 square kilometres. Video of the press conference
Map shows where the Australian Maritime Safety Authority plans to searchfor missing Malaysia Airlines flight MH370 on March 18, 2014. The Guardian
12:33 PM MYT
Aircraft from the US and New Zealand will start hunting for MH 370 in a new search area 3,000 kilometers southwest of Perth, Australia. ABC News
11:33 AM MYT
Citing "senior American officials," New York Times claims that the divergent turn on MH 370 was preprogrammed into the aircraft's computer. Do note that their sources are not disclosed. They did not explained how they know that the route was programmed rather than flown manually. Hence, our advice is to consume this report with a pinch of salt until further official confirmation is received.
11:29 AM MYT
Chinese ambassador to Malaysia: We have ruled out the possibility that Chinese passengers on MH370 were involved in terrorism. The investigation should not be excessively covered by media since criminal probe could be involved. Priority of the investigation is to rule out one of the corridors for a more specific search range. CCTV News
9:08 AM MYT
There has been no evidence of communication — including those from mobile phones — from anyone onboard MH 370 since it was diverted. New York Times
5:31 AM MYT
US Navy confirms it has completed its search of the Andaman Sea in hunt for missing Malaysia Airlines jet; "no debris or wreckage" found. NBC News
3:27 AM MYT
The U.S. Navy prepared to pull back military search operations for the missing Malaysian Airlines jet on Monday, defense officials said. The USS Kidd will cease search efforts in the Strait of Malacca and return to carrying out its normal Navy operations, officials told NBC News. Note that this has not yet been officially announced.
3:27 AM MYT
Kazakhstan, Pakistan, India, and Central Asia, as well as Taliban militants said that they knew nothing about the whereabouts of a missing Malaysian Jetliner, and would have be detected by radar if the plane did flew into their air space. Source: The Guardian
LATEST PRESS CONFERENCE – March 17th
Attended by minister of Transport, minister of Foreign Affairs, DCA chief, MAS CEO.
Opening statement
Radar, SAR assets and plan were requested from countries in search corridor,
26 countries involved in SAR operation.
Southern corridor split to 2. Australia & Malaysia will lead the search in these areas.
Search in both corridors has started.
Malaysia navy has deployed vessels to southern corridor.
US Navy's P8A will be travelling to Perth to assist in SAR operation.
Civil aviation from China will be joining the investigation team, as well as French counterparts.
Investigation on all crew including ground staff started on 8 March. Pilot & co-pilot house was revisited at 15 March. Flight simulator was taken away. FBI, Interpol is working on investigation.
NOTE: Full text of the opening statement can be found here. (via The Guardian)

Q&A
Authorities decline to comment on the ongoing investigation on pilot & co-pilot.
The pilot did not request to fly together. It was based on rosters.
4 tonnes of mangosteen was the answer when probed by journalist on potentially high value cargo on the aircraft.
Possibility of the aircraft was remotely controlled is low.
ACARS was turned off at Kota Bahru, transponder was turned off at IGARI waypoint.
MAS has tightened their security procedures.
All emergency system must be checked & armed prior to take off.
Don't have any evidence from Telco on the possibilities of call or text being made after the aircraft have turned west yet. Authorities are still going through the records.
Background check on passenger is still going on.
Initial investigation indicates the last communication was from the co-pilot, at 1:19 am MYT.
Last ACARS communication was received at 1:07 am MYT, it was supposed to transmit new data after 30 minutes. Authorities do not know the exact time ACARS was switched off.
ATC have no indication that the aircraft ACARS was turned off.
The last 6 ping back was from geo-satellite. No coordinate could be derived from the data.
From the point of 8:11 am MYT ping back, the aircraft should have additional 30 minutes flight time, based on the flight speed.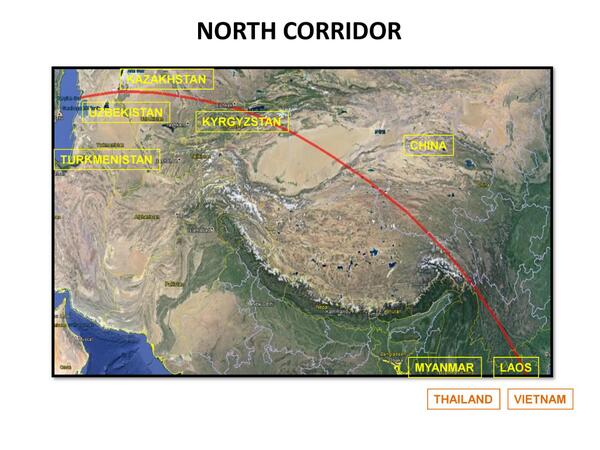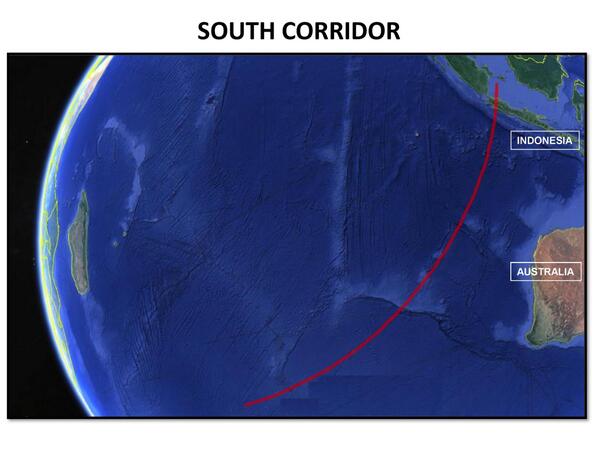 4:57 PM MYT
The English edition of the state run Global Times has run a series of critical articles questioning the way the search for the Beijing-bound flight is being handled. Now it is accusing Malaysia of incompetence and suggests it may need to hand over responsibility for the search after its 'lousy' efforts. Global Times
2:21 PM MYT
Search area now comprised of 30 million square miles. WSJ
Putting things in perspective, that would be looking for 1 faulty pixel in 20 gigapixel photo. –de-facto-idiot
2:15 PM MYT
Press statement by Ministry of Transport Malaysia. Source
NOTE: Formatted for better readability
1. Search and rescue operational update

a. The number of countries involved in the search and rescue operation has increased from 14 to 26. These countries are: Malaysia, Australia, Bangladesh, Brunei, China, France, India, Indonesia, Japan, Kazakhstan, Kyrgyzstan, Laos, Myanmar, New Zealand, Pakistan, Philippines, Russia, Singapore, South Korea, Thailand, Turkmenistan, UAE, UK, US, Uzbekistan, and Vietnam.

b. Today, the Royal Malaysian Navy and the Royal Malaysian Air Force will deploy their assets to the southern corridor.

c. The Ministry of Foreign Affairs has sent diplomatic notes to all countries along the northern and southern corridors; and all countries from which we are requesting assistance.

d. The above mentioned diplomatic notes set out the specific support and assistance required, including: – Radar and satellite information – Land, sea and aerial search operations – Search and rescue action plans for relevant countries – Details of any information required from Malaysia

e. Today, three French officials from the Bureau d'Enquêtes et d'Analyses pour la sécurité de l'aviation civile (BEA) arrived in Kuala Lumpur to help with the search and rescue operation. The officials will share their expertise and knowledge based on their experience from the search for Air France Flight 447.

2. Update on the police investigation into MH370's crew and passengers

a. On Saturday 8 March, the Royal Malaysia Police started investigations into all crew members on board MH370, including the pilot and co-pilot, as well as all ground staff handling the aircraft.

b. On Sunday 9 March, police officers visited the homes of the pilot and co-pilot. Officers also spoke to family members of the pilot and co-pilot.

c. Police visited the homes of the pilot and co-pilot again on Saturday 15 March. The pilot's flight simulator was taken from his house with the assistance of his family. The simulator was re-assembled at police headquarters.
This is a compilation of useful links revolving the Missing MH370 fanfare.
Please go ahead and share links of any reputable good reads in the industry or this unfortunate incident to help others to understand the incident.
MH370
If you are late to the party or you have limited knowledge of what's happening. The fastest way to get yourself informed is through Wikipedia.
The Iranians who travel with the plane with fake passports are "not linked to terror"
A CNN report on why some of the passengers' phones are ringing
Profiles of the two pilots
A New York Times report on how radar suggests jet shifted path more than once
Another New York Times report but this time on the potential airway corridors that MH370 might taken
Where is Malaysia Airlines Flight MH370? By a Malaysian journalist in KL & a US-based Malaysian artist-activist
Infographic on MH370′s flight path, search area, flight-tracking, and black box
Plane hijacked?
Possible sabotage explained by the Wall Street Journal
Flight Tracking
How FlightRadar24 works
The Guardians briefly explains the transponder, primary radar, and secondary radar
ACARS Wikipedia Page
Inmarsat/SITA
What is Satellite Ping?
What SATCOM, ACARS, and Pings tell us about the missing MH370
Boeing 777
Boeing Wikipedia Page
Excellent Safety Record of B777
Transponder in Boeing 777
Explanation of ADB-S transponder used in MH370
Search & Rescue
Washington Post's report on the scale of the Safe & Rescue Operation
How does Black Box works?
Others
Tomnod – Crowdsourcing Search Online
Related posts:
No related posts.